If you are thinking about getting to Cadiz, it is good to take a look at the different options with Virail , you can check dates, schedules, buses, trains and shared cars to go to Cadiz.
Buses to Cadiz
Different bus companies offer coach tickets from the main Spanish cities to Cadiz. For example, Secorbus is in charge of offering buses from Madrid to Cadiz, Comes offers services for the line Sevilla-Cádiz, while ALSA is present for the stretch of Malaga to Cadiz. You can find the different bus connections here.
Trains to Cadiz
RENFE offers a large number of train connections between Cadiz and major cities such as Madrid, Barcelona, Valencia, Sevilla or Zaragoza. You can travel in both AVE and Alvia or Talgo. You have information about trains to Cadiz in this link.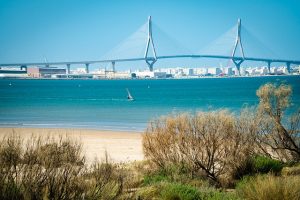 Shared car to Cadiz
A large number of BlaBlacar users offer trips to Cadiz. In Virail you can check at the possibilities of carpool and other means of transport.
Fly to Jerez de la Frontera
The nearest airport to Cadiz is Jerez de la Frontera, which has a large number of national and international connections. Once you arrive at the airport, you can transfer by train (close to C1) or bus. You can compare the different airlines here.